MP3 is one of the common audio formats using a form of lossy data compression. Get used to listen to it via music player? Try something new, the MP3 to FLV conversion makes it possible to "watch" music now by adding the music as background to other flash videos.
Moyea Video4Web Converter is a professional video/audio to flash video converter that can convert audio format MP3 to FLV, convert video format AVI and many others like WMV, ASF, WMA, RMVB, RM, RA, MPEG, MOV, QT, ect to flash video formats in FLV, H.264 coded MP4, MOV, 3GP/3G2 and Youtube Resolution.MP4, which can be uploaded to mobile phones and many other video-sharing websites like Youtube, Google Video, MySpace Video etc for sharing with friens and families. This converter is also capable of converting video to audio in variety of formats like AAC, M4A and MP3.
The following brief tutorial shows how to convert MP3 to FLV and then merge it into another flash video file as background music.
Step 1: Launch Moyea Video4Web Converter and input MP3 file(s) and video file(s), let's take AVI for example.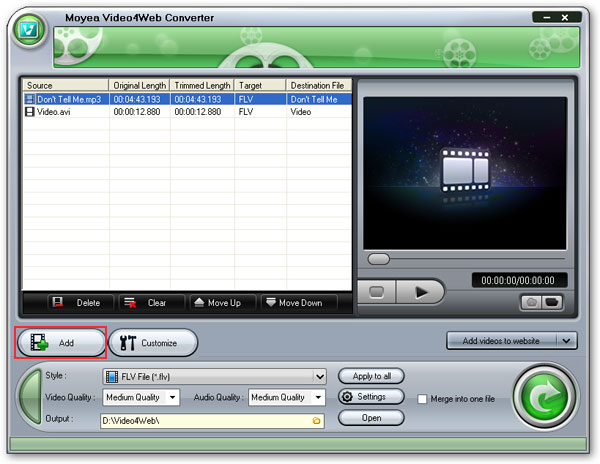 Step 2: Choose MP3 to FLV conversion from "Style" pop-up menu and check the box before "Merge into one file".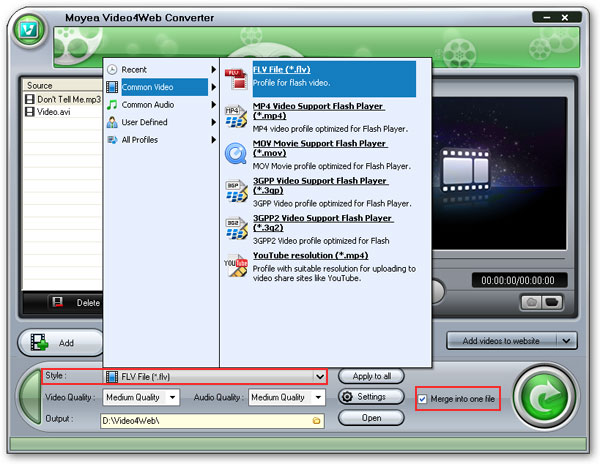 Step 3: Click "Convert" to start the conversion process.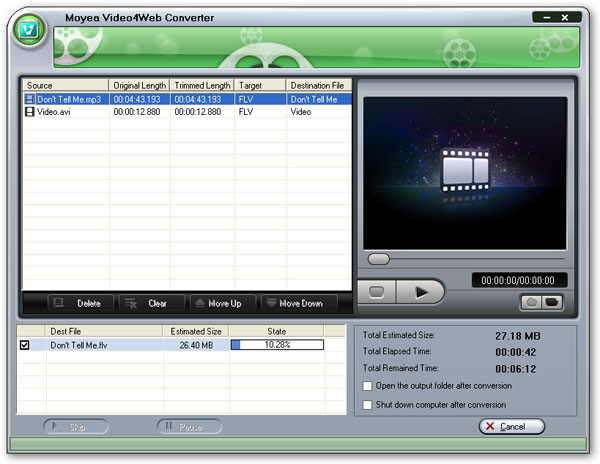 When the MP3 to FLV conversion is complete, an unique flash video with background music is available now to upload to Youtube for fun with your friends and families!

System requirements

Moyea Video4Web Converter ( Convert to FLV ) System requirements
• Microsoft® Windows XP (SP2 or later), Windows Vista ,Win7
• 64MB Memory (128MB recommended)
• 512MB hard disc space or above
• Adobe Flash Player 7 or above