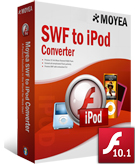 Moyea SWF to iPod Converter - The easy-to-use flash to iPod converter for users to
download flash
, then
convert flash projectors and flash swf to iPod videos and audio
to enjoy flash movies and music on the go. And better than many other flash converters, Moyea convert flash to ipod video with
perfect video and audio asynchronization, no loss of frames, audio distortion.
Moyea offers fully solutions for all iPod players, such as
iPod classical, iPod nano, iPod shuffle and iPod touch
. Moreover, the output MP4 could also playback on iPhone, Apple TV by setting the video size. As the leading flash converter, Moyea can process
complicated Flash files
that other flash converters can not, such as flash swf files with internal or external Flash video (flv), and interactive flashs.
Key Features of SWF To iPod Converter
Download Flash + Convert flash to iPod touch, nano, shuffle and classical
Moyea SWF to iPod Converter ia an all-in-one solution for downloading flash and converting flash projector (.exe) and flash SWF to iPod MP4 video with high quality. It offers solutions for converting flash to iPod Touch, iPod Nano, iPod Shuffle and iPod Classical. The output MP4 could also playback on iPhone, Apple TV and PSP by changing the video size. Besides, Moyea also support to rip music from flash and convert to MP3, AAC, WMA and other audio formats for users to enjoy music anywhere anytime.
Input formats: SWF, Flash .exe file
Output formats: MP4, MP3, WMA, WAV, RA, M4A, AAC, MP2, AC3, GIF, and etc.
Output Devices Solutions: iPod Touch, iPod Nano, iPod Shuffle, iPod Classical, MP4 Player, MP3 Player, etc.
New! In SWF to iPod Converter 3.7, optimized the user interface and fixed some bugs.
Get smooth & high quality sound + Synchronization of video and audio
As Moyea adopt the Lower-Playback-Speed technology, it's impossible for Moyea SWF to iPod Converter to achieve accurate audio and video synchronization and no skip frames aftter converting flash to iPod MP4 videos. Meanwhile, Moyea could keep 100% of the original sound for users to get smooth sound with high quality after flash to iPod conversion by using audio-extracting method.
Batch convert flash to iPod with few clicks
Click on the button Batch mode, you can import multiple Flash SWF files and convert SWF to iPod at once. All the settings for the batch mode will be configured to all the imported SWF files and are carried out in the automatic way, that is, the users could not interactive as freely as that in the single mode. The batch mode conversion is not recommended to professional or advanced users, however.
New! Version 3.6 fixed the bug of unabling to input SWF under batch-conversion mode.
Successfully process built-in Flash videos or linked Flash videos
Moyea completely complies with the rule of WYSIWYG (What You See Is What You Get). As we know, FLV files using FCS/FMS (Macromedia Flash Communication Server, Macromedia Flash Media Server) include Nellymoser audio, a type of audio whose encoding method is not known by the world, and it cannot be decoded by any third-party program. However, Moyea SWF to iPod Converter can process any Flash that can be played by Flash player to iPod. Such as, convert flash with internal or external Flash video (flv) embeded to iPod. This offers solutions for users that use FCS/FMS.
Moreover, Moyea SWF to iPod Converter can perfectly process Flash and video files by multiple codecs, particularly Sorenson H.263, flash 8 video, and Nellymoser.
Trim a Flash file by selecting the beginning time and/or the ending time
To meet each specific need, users can capture any frame of the source flash SWF file for conversion and extract the unnecessary part by Moyea SWF to iPod Converter.
Capture frames as thumbnail
After conversion of flash to iPod, users may need some nice frame thumbnails of the flash has been converted for some further use. Moyea SWF to iPod Converter allows users to capture any frames as the still thumbnail in a snap.
System requirements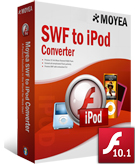 Moyea SWF to iPod Converter System requirements
• Microsoft® Windows XP (SP2 or later), Windows Vista ,Win7
• 64MB Memory (128MB recommended)
• 512MB hard disc space or above
• Adobe Flash Player 7 or above