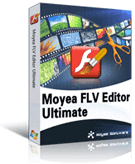 Moyea FLV Editor Ultimate is a powerful and easy-to-use video editor designed for Flash video with timeline. Abundant useful FLV editing features are provided: trim FLV, merge FLV, split FLV, replace FLV audio to customize video contents, cue points to synchronize with navigations or events, special video effects to enrich your video, etc. It generates FLV video, SWF (with various player skins, preloaders and special effects), extract the MP3 audio out, transform MP3 to lossless FLV and save as project file for future editing.
You can directly upload the output FLV video to YouTube for sharing with family and friends, playback the MP3 audio on portable devices like iPhone, iPad, iPod, etc. or publish the SWF video on your website and blog. It is just so easy to edit FLV, enrich your FLV video and share with everyone!
Key features of Moyea FLV Editor Ultimate
Work with most of your Flash videos
Moyea FLV Editor Ultimate enables you to load FLV videos and F4V videos with various codec, including H.264, Sorenson H.263, Nellymoser, Flash 8, and Flash 8 with alpha. Besides, you can also import MP3 files to customize your Flash videos.

Get videos without quality loss
The program edits your FLV videos using the original source code without re-encoding or compression. Since there is no conversion from the source file to the output file, you can create Flash videos with original quality.

Personalize FLV videos with editing features
This program is especially designed for FLV videos. It is a combination of FLV trimmer, FLV splitter, FLV joiner and FLV editor which enables you to easily edit FLV videos like trim, crop, cut, merge, split, etc. for better overall video effect.

Edit FLV with timeline

Moyea FLV Editor Ultimate is a handful FLV movie editor which offers you simple solutions if you want to edit FLV videos like combine multiple FLV videos seamlessly, split a FLV video to several clips, trim any part from the FLV video or replace the MP3 audio, etc.

MP3 to FLV
YouTube only accepts video formats and if you want to share your MP3 music on YouTube, this FLV Editor can also serve as MP3 to FLV converter. Import MP3 file and export as FLV video so that you can upload to your YouTube account.

Extract MP3 from FLV Video
If you like some music in the YouTube FLV videos, YouTube FLV Downloader Pro could help you download any YouTube videos. While you will find it remarkably easy to extract the MP3 file from FLV video using this YouTube video editor, so that you can enjoy the music with your iPod, iPhone, iPad, etc.

SWF with FLV player for web sharing
You can also choose to generate SWF movie with FLV player to share on your website or blog. With the powerful SWF video customization functions, you can add stylish play skins, preloaders, special effects and edit the detailed SWF video profile to ensure the best user experience.

Save project file for future editing
By saving project you can pause or quit the Flash video editor anytime you want and resume the editing process later. It is easy for you to load the related files to the program again based on the project you saved. It prevents you from loading and editing the FLV videos again.

Add cue point and metadata to FLV
If you get or create a Flash player with ability to read certain cue point, you can add cue point to the FLV videos via this FLV Editor to trigger events or navigations. Besides, you can add metadata to describe the contents and context of the FLV video file, thus makes it easier recognized by Flash player or for debugging purposes.

System requirements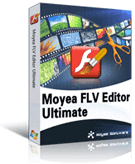 FLV Editor Ultimate System requirements
• Operating System: Windows 2000/XP/2003/Vista/Windows 7
• Microsoft DirectX 8.1 or above
• Memory: 64MB Memory (128MB recommended)
• Processor: Intel Pentium 3 processor at 500 MHz
• Hard Disc Space: 512MB hard disc space or above
Buy Now