Convert Video from FLV(Flash Video) to AAC(iTunes Audio) with FLV to Video Converter
FLV to AAC
This tutorial is to show you a step-by-step demonstration of converting videos downloaded from YouTube and Google Video, etc, to aac for digital audio, First of all, we have to make it clear that the YouTube videos and Google videos communicating online are of the Flash Video file, or FLV file format
What is FLV?
FLV, or Flash Live Video file, is a preferred file format that is designed for web playback, offering high rates of compression to deliver video over the Internet using Adobe Flash Player.
FLV content cannot be played back directly but must be embedded in (or linked from) an SWF file. You create (or download) a "container" SWF file from which to play the FLV file. The most common approach is to use an SWF file that functions as a media player with screen and playback controls. Notable users of the FLV format include YouTube, Google Video, Reuters.com, Yahoo! Video and MySpace.
What is AAC?
Advanced Audio Coding (AAC) is a standardized, lossy compression and encoding scheme fordigital audio. AAC is promoted as the successor to the MP3 format by MP3's creator, Fraunhofer IIS.
Depending on the encoder used, AAC generally achieves better sound quality than MP3 at the same bitrate, particularly below 192 kbit.
AAC's most famous usage is as the default audio format of Apple's iPhone, iPod iTunes, and the format used for all iTunes Store audio (with extensions for proprietary Digital Rights Management (DRM) where used).
AAC is also the standard audio format for Sony's PlayStation 3 and the video standard. HE-AAC is part of digital radio standards like DAB+ and Digital Radio Mondiale.

Launch Moyea FLV to Video Converter
In order to To convert from FLV(Flash Video) to MOV(QuickTime) video with FLV to Video Converter, you must have Moyea FLV to Video Converter Pro installed, Once Moyea FLV to Video Converter is installed, launch the flv to video converter program.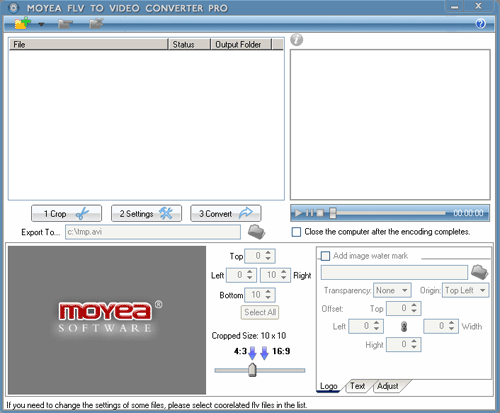 Add File
Click on the "+" button on the tool bar to import your target FLV files into the program, by following the instructions, you can check you fiv files by preview


Crop the video and add watermark
Select a specific file and you can crop the video to determine what area of the video image is to be shown. And you can also add a watermark to the output file by checking box for watermark. This step is particularly important to instructors or conference presenters if they are to display their logo in the generated video.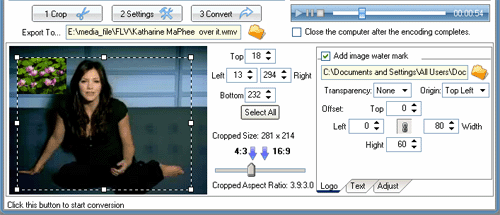 Change the Output Settings
Click "Settings" and you could start to adjust the settings of the FLV for your output to play on portable devices. Select "MPEG" in the "Export Type" and under the "Sub-type" item, select "NTSC VCD". You can also choose one existing output format profile provided by the program with "NTSC", The profiles preset by the system in the field "Select a Profile" are the commonly used one.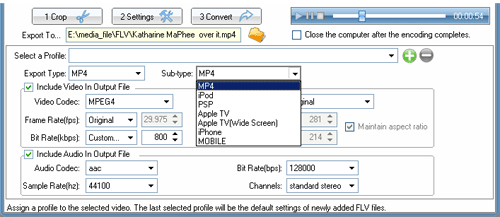 You can change the bitrate,audio codec, and sample rate of the Audio, If you select multiple files at once, you should click the "Apply" button on the bottom-right corner to apply the adjustment you just made for the selected files.
Start conversion
Click "Convert" to start to convert the files on the file list to the output folder.

>> How to rip music from flash and convert to MP3?

System requirements

Price:
$29.95
Moyea FLV to Video Converter System requirements
- Windows NT4.0 + SP6/2000/XP or above
- 64MB Memory (128MB recommended) & 512MB hard disc space or above
- Windows compatible Monitor (800*600 or above resolution)
- Windows compatible mouse, keyboard and sound blaster