1. What Moyea SWF to Video Converter Pro can Do for You?
2. A Total Solution of Flash to Video Conversion with SWF Converter
What Moyea SWF to Video Converter Pro can Do for You?
Moyea SWF to Video Converter Pro is quite brilliant in the conversion from SWF to AVI, MP4, MPEG (compatible with DVD, VCD, SVCD), and 3GP, etc. This program is orientated for video professionals, business presenters, instructors, web designers, video enthusiasts, etc.

As distinct from the crowd of other converters, the program has no problems related to video and audio asynchronization, skipped/lost frames, audio distortion, inability to retain Alpha Channel effect of original Flash files in converted videos and failure to process internal and external Flash video (FLV).

Instead the program could let you fully enjoy the original effects of your Flash files on PC, iPod, Zune, Xbox, PSP, cell phones, DVD players and other portable devices when you are on the move. Generated video files can be cropped, added a transparent background and an animated watermark, etc.

This is a screenshot of Moyea SWF to Video Converter Pro: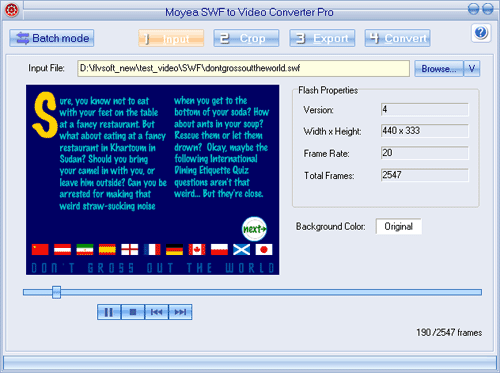 With Moyea SWF to Video Converter, you can…
• Generate editable AVI video format.
Video professional could obtain the AVI video, the file format most suitable for editing among all the video formats, with Moyea SWF to Video Converter. Advanced video editors are promised to generate 32-bit RGBA AVI video to cater to their needs in design and arts.
• Turn out DVD, VCD & SVCD-Compatible MPGE file.
For video professionals and enthusiasts, this program can help you get MPEG video files, which could be burned into DVD, VCD and SVCD, from online SWF files. You can burn the created MPG files into DVD, VCD, etc, to for commercial purpose or to share with your friends.
• Prepare videos for mobile devices.
The program can help you convert interesting SWF video to WMV, a popular format for mobiles devices, such as cellular phones, PDA and Portable Media Centers. Then you can upload the video to a mobile device using any synchronization software and watch the video on the move or share it with other people.
• Make outstanding presentations.
Converted videos, animations can also be used in computer-based presentations to visualize data and processes for better understanding. Business presenters will obviously like the opportunity to add a transparent background or an animated watermark to deliver a corporate branding style.
• Create downloadable content for a website.
Website owners can use Moyea SWF to Video Converter to prepare downloadable videos for broadcasting from a website. It supports all popular formats for preparing downloadable video (WMV, MOV, AVI, etc). You can convert files, upload them to the server, make a link, and all website visitors will be able to watch or download your videos.