FLV, Flash video, is a preferred file format that is designed for web playback, offering high rates of compression to deliver video over the Internet using Adobe Flash Player.
FLV content cannot be played back directly but must be embedded in (or linked from) an SWF file. You create (or download) a "container" SWF file from which to play the FLV file. The most common approach is to use an SWF file that functions as a media player with screen and playback controls.
Videos posted by the public audience on such video sharing sites as YouTube, Google Video, Yahoo! Video and MySpace, Dailymotion, etc, are all in the file format of FLV.
This article is to show you graphically how to convert the FLV to DV, a highly compressed video format that could be edited on the PC.
What is DV?
DV is an international standard created by a consortium of 10 companies for a consumer digital video format, including that of Panasonic, Sony, Philips Electronics, Sharp, etc. Since then many others have joined the group.
DV, originally known as DVC (Digital Video Cassette), uses a 1/4 inch metal evaporate tape to record very high quality digital video. The sampled video is compressed using a Discrete Cosine Transform (DCT), the same sort of compression used in motion-JPEG. However, DV's DCT allows for more local optimization within the frame than JPEG compressors, allowing for higher quality at the nominal 5:1 compression factor than a JPEG frame would show.
What DV adopts is intraframe compression: each compressed frame depends entirely on itself, and not on any data from preceding or following frames. However, it also uses adaptive interfiled compression.
Unlike traditional analog video, which is captured frame by frame on a tape, digital video is recorded digitally, as ones and zeros. Since it is stored in a digital format, digital video can be recognized and edited by a computer, which is also a digital device.
Because of this advantage of DV format, conversion from FLV Flash video to DV has a wide range of application.
This is how we can convert FLV files to the DV format:
In order to finish this guide, please install the Moyea program of FLV conversion.

1. Launch Moyea FLV to Video Converter Lite and Add Files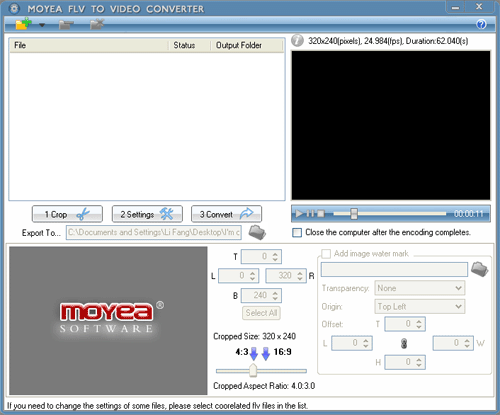 After importing the source FLV files into the program, you can preview the effect immediately. Currently, there are the Lite version and Pro version of FLV to Video Converter available, with the Pro version developed particularly for advanced users with some functions to edit the created video files.
2. Adjust the settings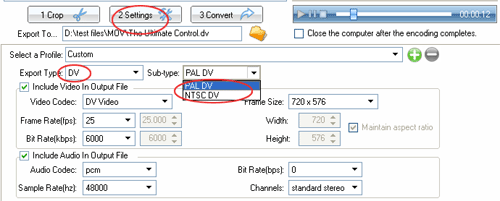 In the step of Settings, select DV for the Export Type, and then PAL DV or NTSC DV according to the particular mode of your location.
You can set the parameters of audio and video, including the video codec, frame rate, frame size, bit rate; the audio codec, etc.
While setting these parameters, the program allows you to refer to the detailed information of the source FLV file by clicking the icon in the upper left corner of the Preview Panel like: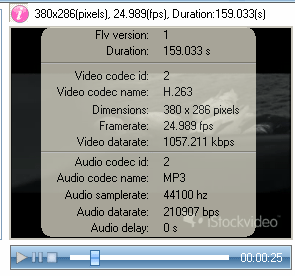 3. Convert
This is the third and last step of conversion. Click on the button Convert, and the program will help you to encode the FLV file into the desired DV format.

>> How to convert Flash to MPEG?

System requirements

Price:
$29.95
Moyea FLV to Video Converter System requirements
- Windows NT4.0 + SP6/2000/XP or above
- 64MB Memory (128MB recommended) & 512MB hard disc space or above
- Windows compatible Monitor (800*600 or above resolution)
- Windows compatible mouse, keyboard and sound blaster